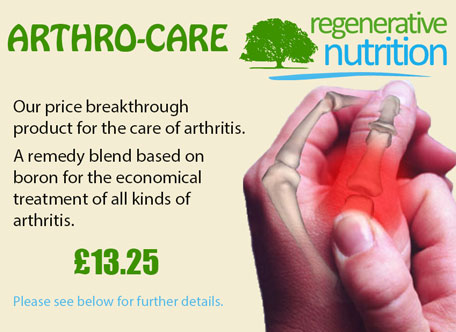 including worldwide shipping
Arthro-Care is recommended for Arthritis, Osteoporosis, and as a basic protection supplement for the over 50's.
Please click on the further information tab at the website page here to read more about Arthro-Care. Also, available for download on this tab is a a short paper about Arthritis and Boron from the Arthritis Trust of America introducing the work of Professor Rex E. Newnham, Ph.D., D.O., N.D

The longer you have had arthritis, the longer it takes to recover. As a rough guide, according to Professor Rex E. Newnham, people under 60 will begin to feel benefit by the end of the first month, people aged between 60 and 70 within two months, and people 70+ within three months.
No untoward side effects have been noted, but there are some useful side-effects, such as cardiopathies being corrected, vision improved, psoriasis has been much improved and balance has been corrected.
1 Capsule Contains
Seagreens (Ascophyllum Nodosum) 375mg
Sodium Ascorbate 150 mg
Sodium Tetraborate Anhydrous 17mg*
Vitamin D3 1000 IU
Capsule: Vegetable Cellulose (Suitable for Vegetarians & Vegans)
*equivalent to 3mg elemental weight of Boron
Recommended at 3 capsules daily for adults
Dr. Newnham's findings were given at a conference of the British Society for Allergy, Environmental and Nutritional Medicine. Some of their doctors are now getting a better than 90% complete remission or correction of their cases of arthritis. Prior to using boron they were achieving only 40%.
Boron in the form of Sodium Tetraborate has been repeatedly demonstrated to yield a very high success rate in resolution of arthritis of all types.
If joints are fused then improvement will be much reduced. Sufficient magnesium usage over the course of many months may help to resolve calcium deposits and therefore offer more improvement in these cases. Information about our magnesium product, Mag Sea Pure, can be found
here
A companion product called Repair Tonic, also contains boron and other ingredients such as glucosamine to speed recovery from arthritis. Details can be found
here
Please click on the
further information
tab at the website page
here
to read more about Arthro-Care.
Natural Health News