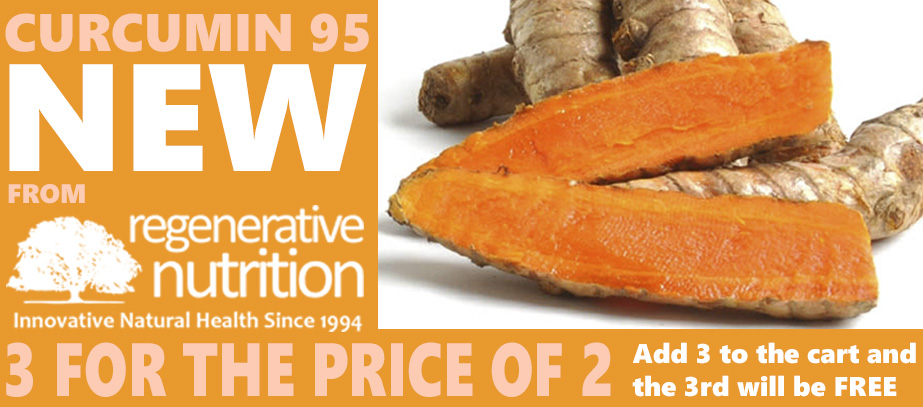 Curcumin, is a micronutrient extracted from the Turmeric root with multiple health benefits. It is known to target signalling molecules* inhibiting activity at the cellular level (e.g. in the case of cancer cells, it causes apoptosis, a form of programmed cell death, or "cellular suicide." an orderly process in which the cell's contents are packaged into small packets of membrane for "garbage collection" by immune cells).
Despite it's numerous benefits to health, Curcumin is poorly absorbed by the body (low bio-availability) and is prone to rapid metabolisation and elimination from the body. Piperine (a component of black peppercorns), a known bio-accessibility enhancer is found to improve the bio-availability of curcumin by about 2000%. Therefore the issue of poor absorbtion is addressed fully by adding piperine to Curcumin.
Curcumin has received much attention globally due to its multiple health benefits, anti-ageing properties and its ability to have positive effects in both sick and healthy people. It can be described as a great, all in one supplement as well as being one of the most active and most beneficial single supplements available.
Curcumin has been shown to benefit inflammatory conditions, metabolic syndrome, pain, and also help in the management of inflammatory and degenerative eye conditions. In addition to this, it has been shown to benefit the kidneys and more. While there appear to be countless therapeutic benefits to curcumin supplementation, most of these benefits are due to its antioxidant and anti-inflammatory properties.
Curcumin 95 from Regenerative Nutrition contains 428 mg of Curcumin extract per capsule. This extract is more than 95% curcuminoids, and therefore one of the most pure and powerful Curcumin supplements available today. Please don't be fooled by cleverly worded ingredients on lesser products that contain plain turmeric powder which at best has about 3% curcuminoids. Curcumin 95 also contains 22 mg of Piperine per capsule to ensure peak bio-availability.
*
Signaling molecules are the molecules that are responsible for transmitting information between cells in your body. The size, shape, and function of different types of signaling molecules can vary greatly.
For more information please click
here
Please note that the worsening situation globally on Covid-19 is causing unavoidable delays into ALL destinations. As most airlines have cancelled over 95% of their flights and countries have imposed coordinated lock-downs; delays simply can not be avoided.
We seek your kindest and most generous understanding during this difficult period. If you are not prepared to wait for an extended delivery time, please do not order. We simply cannot handle all of the claims for payment reversals and responding to endless emails about late deliveries. The administrative and financial burden is overwhelming.
We hope things will return to normal in the near future but for now, please rest assured we are doing our level best.
Natural Health News