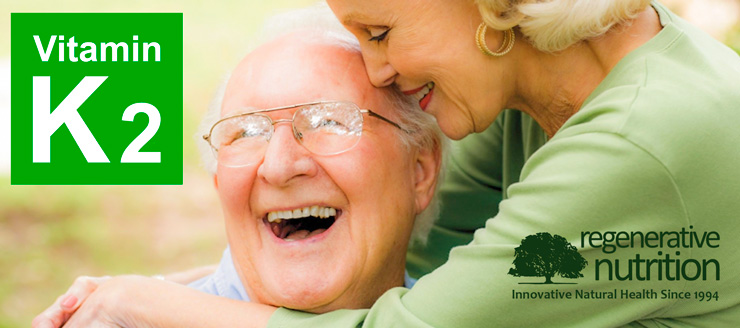 Please click above to view the product at our website
Essential High Potency Vitamin K2 (Mk7) Vegetarian Capsules (One a Day)

From fermented natto, the highest natural source of Vitamin K2
Vitamin K, and in particular vitamin K2, has received a lot of interest in recent years due to a greater understanding of its role in the body and its many potential health benefits.
Once believed only be important for blood clotting, and deficiencies in it rare, we now know that vitamin K has a vital role in preventing serious health issues like cardiovascular disease, osteoporosis and possibly even certain cancers.
What has also emerged is that the K2 version of vitamin K, also known as menaquinones, is likely to be far more important for good health than vitamin K1. Unfortunately, this K2 is the type of vitamin K you're most likely to be deficient in.

Vitamin K protects your bones and reduces the risk of osteoporosis.
Without adequate levels of vitamin K in your body, calcium regulation is impaired with often very damaging long-term consequences. Vitamin K helps keep calcium and other minerals in your bones by maintaining osteocalcin levels. Osteocalcin is a protein secreted by osteoblasts in your bones to bind minerals to the bone matrix. However, when vitamin K (and is believed particularly vitamin K2) is not present in sufficient quantities then osteocalcin cannot perform this function. This leads to calcium been lost from bones at an increased rate. Over time, brittle bones and crippling osteoporosis are the result.
Prevent arterial calcification that leads to atherosclerosis and heart disease.
When calcium is leaching out of your bones due to low vitamin K levels, the excess can be deposited in the cardiovascular system and particularly the arteries. Maintaining good levels of vitamin K in your body is necessary for the formation of a special protein called matrix GLA protein (MGP). MGP helps to block calcium crystal formation inside your blood vessels, but it requires vitamin K to function correctly. People with a vitamin K deficiency have been found to have a higher risk of hardening arteries and this study found vitamin K2 menaquinone specifically associated with a reduced risk of coronary calcification.
Proper blood clotting and less bruising.
Your liver manufactures blood clotting proteins and vitamin K2 is required for this to happen. These blood clotting proteins also affect how easily you bruise and how quickly bruises heal. Frequent bruising may indicate a need for more vitamin K2 in your diet. While the formation of blood clotting proteins is a vital process, the belief that this was vitamin K's primary function lead to dietary intake recommendations based only on enough vitamin K for this purpose. Vitamin K's role in bone building, cardiovascular health and the other benefits of vitamin K listed below have many health experts saying the RDA for vitamin K is inadequate. Some also believe any revision needs to recognize vitamin K2 specifically.
It's important to know that blood thinning medications like Warfarin work by disrupting vitamin K's function, so if your doctor has prescribed these you need to consult with them before increasing vitamin K in your diet, especially through supplements.
Vitamin K2 in particular is being studied for potential protective effect against certain cancers. A large European study of more than 11,000 men over nearly 9 years found a reduced risk of prostate cancer with a higher intake of vitamin K2. Another smaller study found vitamin K2 had a significant preventative effect against liver cancer in women with viral cirrhosis of the liver. Other studies have examined treating leukaemia cells and other haematological cancers with menaquinones.
Improve your skin and prevent wrinkles.
The same calcification problems that harden arteries can also affect the connective elastin that keeps your skin soft and subtle. Without adequate vitamin K in your diet, calcium can be deposited in your skin's elastin fibers and harden to cause wrinkles. Vitamin K is also needed for the formation of certain proteins that maintain healthy skin cells and it may be a factor in skin problems like acne. In fact, there are many reports of topical vitamin K skin treatments helping to prevent acne and in particular heal skin affected by acne scarring.
| | |
| --- | --- |
| Helps Prevent Osteoporosis and Improves Bone Health | May Help Some Cancers |
| Helps Prevent Heart Disease | Helps the Brain |
| Makes Teeth Stronger | Lowers the Risk of Dying From All Causes |
| Decreases Inflammation | Lowers Insulin Resistance |
| May Help Autoimmune Conditions | May Prevent Some of the Negative Effects of Statins |
| Boosts Mitochondrial Function | May Prevent Some of the Negative Effects of Vegetable Oils |
| | |
| --- | --- |
| Extremely complimentary to Vitamin D3 to help with maximum mineral absorption; aiding in the prevention of bone, tooth and gum decay. Very important for the arthritic diseases. | |
With due respect for D3's function of powerfully enhancing calcium absorption; recent research has shown that excessive calcium intake alone can be harmful to the body. The additional calcium must be correctly utilised or it can show up in the wrong places and cause disease.
Excessive calcium uptake, deposition, and interference with normal cardiac and renal function. By conscientiously using vitamin K2 in conjunction with D3, this issue of "metastatic calcium" is thoroughly avoided.
Vitamin K2 activates several important proteins in the body. Vitamin K is essential for the functioning of eight proteins involved in blood clotting. At properly controlled doses, it can dissolve a threatening blood clot in a human patient. Vitamin K regulates and balances the coagulation system as a whole. The coagulation system stands ready to clot if you are haemorrhaging, but it must also prevent the clot if there are no lacerations or bleeding points. The eight proteins counter-regulate one another in this balancing act. Vitamin K is essential in this action.
Vitamin K keeps bones properly mineralised with a strong protein matrix. It also stimulates adiponectin, a potent fat metabolism stimulator which helps people maintain normal weight. It is believed that all the antibiotics used in animal feed lots these days are finding their way into consumer's guts where the beneficial bacteria that convert vitamin K into its active form are being badly disrupted. (Hence, low vitamin K in the body may be a contributing factor in the modern obesity epidemic!)
Activation of the vascular GMP protein is crucial in preventing calcification of coronary and carotid arteries. This explains the 50+% reduction in heart disease in regular vitamin K2 users. This same protein may also prevent bone spurs. Vitamin K2 is thus helping us age better with "hard bones and soft arteries".not the other way around.
Finally, like vitamin D3, strong evidence demonstrates vitamin K's amazing ability to reduce cancer risk. For example, men taking vitamin K2 mk7 (a naturally occurring long acting form of K2 as supplied by
Regenerative Nutrition
) at 45 mcg a day can statistically reduce their risk of prostate cancer by 60%+ That is just one of many cancer risks that are reduced significantly by regular K2 ingestion.
Our K2 Vital contains a minimum of 180 mcg.
We believe it is prudent to partner K2 & D3.
Natural Health News