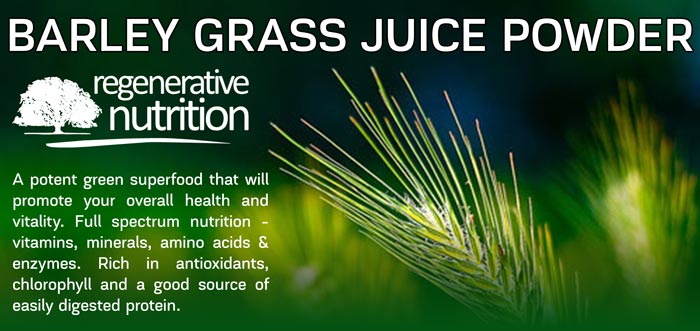 Nature's Multi Mineral & Vitamin - Promotes Health & Vitality In As Little As A Week

Daily consumption of Barley Grass Juice Powder will help provide your body with essential nutrients that promote health and vitality. After taking powdered barley grass juice daily for as little as one week, many people report an increase in energy, better looking hair, skin, and nails, and increased bowel regularity - all signs of good nutrition.
Some of the Bio-active compounds in Synergised® barley grass Juice Powder
Chlorophyll 9.1 mg per gram

Beta-galactosidase enzyme more than 1,000 units per gram

Beta-glucosidase enzyme more than 300 units per gram

Acid- phospatase enzyme more than 2,300 units per gram

Alpha-mannoidase enzyme more than 2,100 units per gram

Speroxidase- Dismutase (SOD) enzyme more than 6,200 units per gram

Protein 30-37 %

Vitamin A (100% Beta Carotine) 34,900IU per 100 gram

Vitamin B12 (Colbalamine) 0.6 mcg per 100 gram

Researchers at leading universities have found that barley grass juice contains potent antioxidants. These important phytochemicals have been shown to help prevent lipid peroxidation caused by free radicals. Powdered Barley Grass Juice is also rich in chlorophyll, which gives barley and many other vegetables their rich green colour. Chlorophyll has been shown to have detoxifying, anti-inflammatory, deodorizing, and antibacterial benefits.
The therapeutic and health normalising effects of a superfood such as green barley juice is FAR in advance of artificially synthesised vitamin and mineral tablets.
Barley grass is an excellent, natural, source of beta carotene, folic acid, vitamin K, iron, calcium, easily absorbable protein, vitamin C, and many of the B vitamins including vitamin B12.
Natural Health News