Curcumin 95 (Organic Curcumin & Piperine)
Information
Ingredients / Directions
Further Reading
Health Uses
Curcumin 95 - Curcumin with Piperine
Curcumin, is a micronutrient extracted from the Turmeric root with multiple health benefits. It is known to target signalling molecules* inhibiting activity at the cellular level (e.g. in the case of cancer cells, it causes apoptosis, a form of programmed cell death, or "cellular suicide." an orderly process in which the cell's contents are packaged into small packets of membrane for "garbage collection" by immune cells).
Despite it's numerous benefits to health, Curcumin is poorly absorbed by the body (low bio-availability) and is prone to rapid metabolisation and elimination from the body. Piperine (a component of black peppercorns), a known bio-accessibility enhancer is found to improve the bio-availability of curcumin by about 2000%. Therefore the issue of poor absorbtion is addressed fully by adding piperine to Curcumin.
Curcumin has received much attention globally due to its multiple health benefits, anti-ageing properties and its ability to have positive effects in both sick and healthy people. It can be described as a great, all in one supplement as well as being one of the most active and most beneficial single supplements available.
Curcumin has been shown to benefit inflammatory conditions, metabolic syndrome, pain, and also help in the management of inflammatory and degenerative eye conditions. In addition to this, it has been shown to benefit the kidneys and more. While there appear to be countless therapeutic benefits to curcumin supplementation, most of these benefits are due to its antioxidant and anti-inflammatory properties.
Curcumin 95 from Regenerative Nutrition contains 428 mg of Curcumin extract per capsule. This extract is more than 95% curcuminoids, and therefore one of the most pure and powerful Curcumin supplements available today. Please don't be fooled by cleverly worded ingredients on lesser products that contain plain turmeric powder which at best has about 3% curcuminoids. Curcumin 95 also contains 22 mg of Piperine per capsule to ensure peak bio-availability.
*
Signaling molecules are the molecules that are responsible for transmitting information between cells in your body. The size, shape, and function of different types of signaling molecules can vary greatly.
List of potential benefits of Curcumin (expanded upon in the further reading tab)
Osteoarthritis
Diabetes
Heart Disease
Liver Protection
Obesity
Cancer
Exercise induced inflammation
Depression
Alzheimer's disease
Anti-Ageing
Anti-Fungal
Anti-Bacterial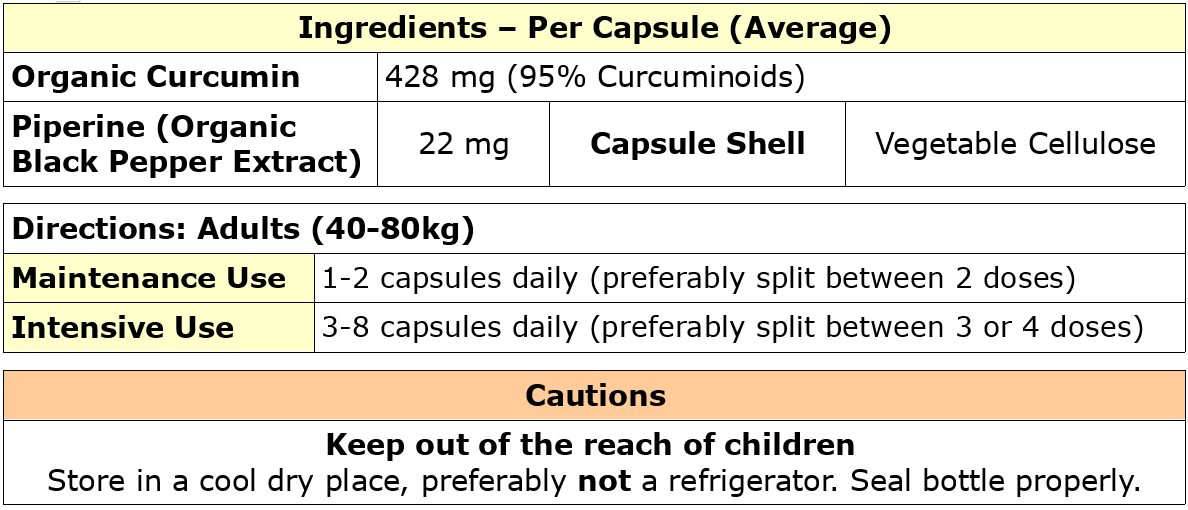 Curcumin supplement benefits, backed by science.
Osteoarthritis
– Curcumin can reduce markers of inflammation resulting in a relief of Osteoarthritis symptoms. The anti-inflammatory ability of curcumin is so powerful, it can actually compete with strong anti-inflammatory drugs but without the side effects.
Diabetes
– Curcumin is known to improve blood sugar metabolism and potentially reduce the effects of diabetes on ones body.
Heart Disease
– Curcumin can help to reduce triglycerides and in turn, reducing the risk of heart disease. This works through improving the function of the endothelium, which is the lining of ones blood vessels.
Liver Protection
– A study found that curcumin was able to help protect against chronic liver damage by assisting to reduce oxidative stress.
Obesity
– Curcumin may be able to inhibit the inflammatory pathways involved in obesity and may help to regulate ones body fat.
Cancer
– Research is still in early stages, but there are indications that curcumin may reduce the activity of cancer cells of the colon, and may have effect on other types of cancer cells, there is also some indications that curcumin may be able to assist in the prevention of cancer, but at this time, it is too early to be sure.
Exercise induced inflammation
– Curcumin can also aid in the reduction of exercise induced inflammation, allowing highly active people to gain enhanced recovery and subsequent performance during and after activity.
Depression
- Researchers are finding mounting evidence that curcumin might help reduce symptoms of major depressive disorders. Due to the anti-oxidant and anti-inflammatory properties of curcumin, This could aid with treating depression because people with depression have greater inflammation and oxidative stress, which can affect all major organs in the body, including the brain.
Alzheimer's disease
- There is currently no solid evidence that supports turmeric being used to prevent or treat Alzheimer's disease but a number of studies have used mouse and cell models of dementia and shown that curcumin could be beneficial. Another study showed curcumin at doses of 50 and 100 mg/kg of body weight increased BDNF protein levels by 78.0% and 95.1% which may be a good indication that it could slow or even prevent many neurological diseases as many common brain disorders have been linked to decreased levels of BDNF.
Anti-Ageing
– Curcumin is also well known for its anti ageing properties as a big part of the body ageing is due to oxidative stress on the body, and with curcumin being such a potent anti-oxidant, it has shown potential to prevent DNA damage and help DNA repair. That's good news for slowing down the ageing process.
Anti-Fungal
– Curcumin is able to disrupt fungal cell membranes and can be used alongside anti-fungal medication for better results.
Anti-Bacterial
– Curcumin has strong anti-bacterial effects that are able to help reduce the growth of many disease causing bacteria.
Side Effects from Curcumin
In small numbers of people, some side effects from curcumin may be experienced.
If you are taking any of the following medications, it is advised to talk to your prescribing medical practitioner before supplementing with Curcumin 95
Cimetidine
Famotidine
Ranitidine
Esomeprazole
Omeprazole
Lansoprazole
In a very small number of people taking more than one capsule of Curcumin 95 per day may increase the chances of headaches and nausea.
Curcumin is the main active ingredient of turmeric. The reasons it is preferable to supplement with curcumin extract are as follows:-
It is easier to include into your daily diet. Standard commercial turmeric has an average curcumin content of 3% meaning a maintenance dose of turmeric would require one to consume at least 13.5g of turmeric daily to achieve the same curcumin content as a single capsule of Cucurmin 95.
Another reason why a pure extract is better is that it is not uncommon for turmeric suppliers to bulk with fillers such as cassava starch, barley, rye or wheat flour. This can be especially problematic for anyone suffering with gluten intolerance.
It has also been known that some commercially available turmeric powders (intended for cooking) can be old and stale.
You may also be interested in...