Selenium (Food State)
Information
Ingredients / Directions
Further Reading
Health Uses
Please note this product has been re-packaged and re-branded by the manufacturer. It is exactly the same product, from the same manufacturer as the product we supplied previously. The main purpose of the change was to cease supply in glass bottles due to breakages in transit, hence the new "food grade" PE Packaging.
NOW 60 Tablets not 50 Tablets
Food state nutrients are better absorbed and transported to the cells than non-food state. They also provide many other synergistic nutrients. Lower doses are therefore required, with more benefits
Why might you choose to take extra Selenium? Soil deficiencies are widespread. If you are consuming large amounts of tea, coffee and or alcohol, selenium may be excreted from the body. It is essential to maintain a healthy immune system especially for aging, cancer and AIDS. It is a powerful antioxidant It works synergistically with vitamin E. It assists in keeping blood vessels healthy (along with chromium). In males, selenium is concentrated in the male testes and seminal glands and is lost in the semen.
Important Note: Selenium is complimentary to Iodine. Virtually all of us are deficient in Iodine. Consumption of Selenium can increase the relative deficiency of Iodine. Therefore it is generally recommended when consuming Selenium to also take an Iodine supplement.
For extensive information about the extremely important role of Iodine at the correct doses in health enhancement see the article
here
Selenium and Iodine work together to help normalise the metabolism via the thyroid gland and to enhance the Immune system
Food State Selenium is presented to the body complete with all the amino acids and other phyto-nutrients with which this mineral is found in food. It is hence far better absorbed and used than inorganic selenium. Selenium is an essential mineral, found in minute amounts in the body. It closely resembles sulphur in its physical properties. Selenium functions either alone or with enzymes. Selenium is a natural antioxidant that protects against free radicals and appears to preserve elasticity of tissue, which becomes less elastic with ageing. It is a key nutrient in immunity. Selenium works closely with vitamin E in actions like the production of antibodies, the binding of toxic metals such as mercury, amino acid metabolism and the promotion of normal body growth and fertility. Selenium maintains certain energy-producing cells, including those of the heart, by ensuring an adequate oxygen supply. Selenium is necessary for the production of prostaglandins.

EXCIPIENTS: Whilst all RN own branded products are excipient free, some of our resale items are NOT. We endeavour to source products with the absolute MINIMUM excipients. All of these are non-allergic and inert and are only used in micro quantities.
Please email us for full ingredients

Suggested Intake: 1-2 tablets daily, or take as directed by a practitioner.

Suitable for: Vegetarians, vegans and for people with Candida and yeast sensitivities.

Contraindications: None.
Non GM & Free From: Wheat, yeast, starch, gluten, soy, lactose, added colourings, sweeteners and preservatives
Selenium is especially needed for the immune system including cancer mitigation. Recent research in Africa has shown that supplementation with selenium plus certain amino acids has dramatically helped AIDS cases, see
here
- it has been found that there is a close correlation between the occurrence of AIDS and the amount of selenium in the soil. This may well be the case with other infectious diseases.
So, if you have a propensity to low immune system or cancer then supplemental use of selenium at 200mcg a day would be sensible. Please also see the full cancer article
here
. Statistically most people are receiving 30mcg - 60mcg from diet of selenium, we need 2mcg per kilo body weight, so 150mcg - 200mcg is an optimal dose. However, since food state selenium is better absorbed and assimilated, 100 mcg a day in this form, may be optimal, although double this dose could be taken for a few weeks. Experiment as individual needs vary.
It is a powerful antioxidant, works synergistically with vitamin E and assists in keeping blood vessels healthy (Along with Chromium). In males, selenium is concentrated in the male testes and seminal glands and is lost in the semen. (As is Zinc) Soil deficiencies are widespread. The consumption of tea, coffee or alcohol can cause selenium to be excreted from the body. Deficiency is widespread.
A recent French study linked the decline of mental function associated with aging with falling selenium levels, the study of 1389 subjects aged between 60 and 71 over a nine year period, found that levels of Selenium depleted over time with a corresponding cognitive decline "Because brain oxidative stress is a cause of cognitive impairment, selenium, which is an antioxidant, may protect against cognitive decline," wrote lead author N. Tasnime Akbaraly, from the University of Montpellier.
We supply Selenium in a food state source meaning it is significantly better absorbed, retained for longer and used more effectively by the body than standard chemical supplements. See the article
Food State Nutrients
for more information.
You may also be interested in...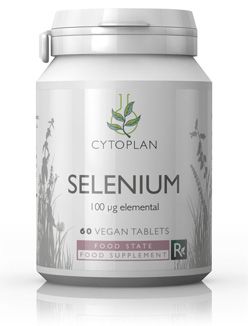 Includes Delivery
We tell you about the shipping cost directly on the order page, no waiting until checkout to find out your total item cost
Personal Support and Advice
We're here to help you every step of the way - contact us