Ginger Root
Information
Ingredients/Directions
Further Reading
Health Uses
Ginger (Zingiber officinale) is a plant native to Asia. The spice comes from the roots of this plant. It has been used in foods and medicine for over 2500 years. The main bioactive compound found in ginger is called Gingerol; responsible for a large part of ginger's medicinal properties. Gingerol has powerful anti-inflammatory and antioxidant effects as well as numerous other benefits. Due to the purity of the ginger root found in our capsules, it can be considerably easier to achieve these beneficial effects by supplementation rather than by simply trying to include greater amounts of raw ginger into the diet. Our capsules contain 400 mg of ginger powder each.
Ginger aids in the healing of many health conditions. As scientific knowledge increases, the interest in understanding just how ginger is able to help with so many conditions has become subject of research projects around the world. Below are just some of the many benefits of ginger that can be backed up by science.
| | |
| --- | --- |
| - Anti-Nausea Applications | - Weight Loss |
| - Osteoarthritis Prevention and Management | - Lowering of Blood Sugars |
| - Improving Risk Factors of Heart Disease | - Chronic Indigestion and Other Digestive Issues |
| - Reduction of Menstrual Pain | - Lowering of LDL Cholesterol |
| - Cancer Preventative Properties | - Improvements in Brain Functioning |
| - Fighting of Infections | |
Supplementation with ginger is able to assist in the recovery of a large number of health conditions as well as being a broad supplement able to improve overall health and protect against ill health via multiple pathways. Ginger is natural, inexpensive and has minimal mild side effects.
Please be sure to click on the further reading tab above to see full details and view scientific studies that support ginger in all of these applications listed above.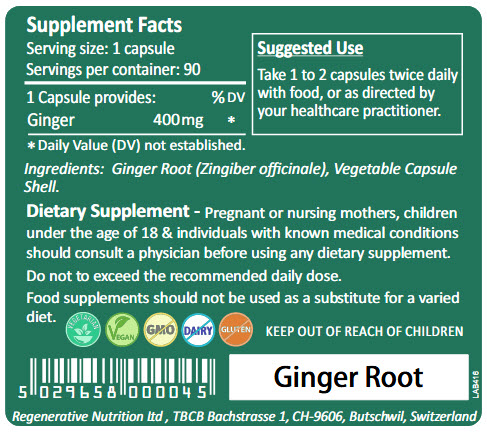 Nausea
– Ginger has been used for thousands of years as a medicine. One of it's most prominent uses was for nausea and vomiting. In the modern day, much research has been conducted on the effects of ginger and how useful it is within medicine.
A 2015 review of a large sample of studies
suggest that ginger is a promising treatment for nausea and vomiting. Scientists have shown that ginger possesses a clinically relevant mechanism for reducing nausea/vomiting.
Weight loss
–
A 2018 review analysing the effects of ginger on weight loss
has shown that supplementation with ginger significantly decreased body weight. The meta-analysis demonstrated that ginger intake also reduced waist to hip ratio, fasting glucose, insulin resistance and increased HDL-cholesterol (good cholesterol), but was found to not affect insulin, BMI, triglycerides and LDL-cholesterol levels directly.
Osteoarthritis
– Ginger has high levels of a chemical called gingerol, which is seen to be a potent anti-inflammatory agent. Studies have looked at the efficiency of ginger on patients with osteoarthritis, with some promising results. A
2001 study
showed that a high quality purified ginger supplement had a statistical significant effect on reducing symptoms and pain in patients with osteoarthritis of the knee. In the study the use of high doses of ginger was deemed safe, although a small number of patients had slight gastrointestinal upset, all were considered 'mild'. This can be avoided by always taking the capsules with food.
Lower blood sugars
–
Another analysis of multiple studies
revealed that supplementation of ginger could significantly reduce fasting glucose levels and insulin resistance in patients with type 2 diabetes.
Improve heart disease risk factors
–
Recent studies
have been looking at the potential of using ginger as a solution to treat a number of cardiovascular diseases. Ginger shows considerable anti-inflammatory, antioxidant, anti-platelet, hypotensive and hypolipidemic effects in both vitro and animal studies. Currently they are still working on human trials but the results thus far indicate that doses of 5 g or more demonstrated significant anti-platelet activity. This indicates that if the human studies prove as positive as the previous trials, it could become a cheaper and natural alternative to conventional agents but with significantly lower side effects.
Chronic indigestion
– Ginger has immense value In treating a variety of gastric ailments such as constipation, dyspepsia, belching, bloating, gastritis, epigastric discomfort, gastric ulcerations, indigestion, nausea and vomiting, with
scientific studies validating these claims
.
Lower cholesterol levels
–
A 2018 review of 12 trials
has identified that ginger had a favourable effect on triacylglycerol levels and low density lipoprotein cholesterol. Interestingly patients supplementing with =2 g/day of ginger were found to have significant reduction in triacylglycerol and LDL-C. Unfortunately neither groups showed significant changes in LDL-C or HDL-C.
Aid in cancer prevention
– Several studies have been investigating the cancer preventative properties of ginger and how effective ginger may be to aid in the prevention of cancer.
A 2006 brief review
identified that the anticancer properties of ginger are attributed to the presence of certain pungent vallinoids, gingerol and paradol, as well as some other constituents like shogaols, zingerone. In experimental models ginger extract significantly reduced the elevated expression of an important signaling pathway that is involved extensively in cancer development and progression, as well as a type of inflammatory cytokine. Ginger may act as an anti-cancer and anti-inflammatory agent by inactivating various important signaling pathways through the suppression of the pro-inflammatory cytokines.
Improve brain function
-
Recent studies
have demonstrated that ginger significantly enhances cognitive function in various cognitive disorders as well as in a healthy brain. However, the biochemical mechanisms that causes enhancement of cognition have not yet been investigated in normal or diseased brains. More research is required to fully understand how ginger causes significant improvements in cognition.
Supplementation with ginger is able to assist in the recovery of a large number of health conditions as well as being a broad supplement able to improve overall health and protect against ill health via multiple pathways. Ginger is natural, inexpensive and has minimal mild side effects.

You may also be interested in...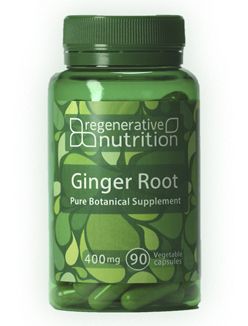 Includes Delivery
We tell you about the shipping cost directly on the order page, no waiting until checkout to find out your total item cost
Personal Support and Advice
We're here to help you every step of the way - contact us