We strive to bring you the most effective remedies to resolve your health problems in the simplest supplemental regime possible. We aim to treat the actual root causes of health problems holistically rather than supply remedies that will give temporary or partial relief from only the symptoms.
We aim to address the actual root causes of health problems holistically. This has been our mission since the founding of Regenerative Nutrition in 1994
As we uncover more fundamental truths about the cause, and therefore the relief, of diseases and health problems we update and revise our product range and recommendations. These are usually incorporated into our
Core Regime
.
Click below to view the Core Regime Essentials in the online store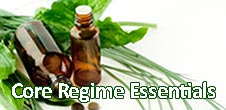 For those of you that do not follow the full core regime we list here
Core Regime Essentials
Ė 7 foundation supplements to enable and potentate the recommended remedies for resolving specific health conditions as detailed in our
A-Z of health disorders
. In this list we detail targeted remedy recommendations for hundreds of conditions, but to achieve overall good health and long term resolution of your health problem these remedies must be combined with the Core Regime Essentials for the best results.
In certain cultures virtually all disease is non-existent, even though the lifestyle and habits of the people are not perfect. Leading researchers in the natural health movement now understand that all disease is unnatural and only resultant from nutritional deficiencies. These deficiencies include, but are not limited to:-
Lack of minerals and trace-elements in the soil

Environmental and direct toxicity

Consumption of processed foods (resulting in lowered organ, immune and glandular function)

Supplying the correct nutrients in sufficient quantities, and clearing chronic toxicity and infections is the basis of restoring the body to health, no matter what the severity or name of the disease (and there are thousands of named diseases).
The Core Regime Essentials
For nutrition to be properly utilised and for health to improve the important factor of chi or life-energy needs to be addressed. The three aspects of this are (1) Constitutionally low chi (2) Low chi caused by a underground body of water below the home or workplace that effects the persons in those buildings. This is surprisingly common for persons with chronic health disorders. (3) Disturbed Chi due to electromagnetic stress. To help overcome these issues you can use a Room Charger and / or an Chi-Life Energy Pendant.
For details click here
The remedies mentioned above will often be enough to help overcome specific health problems, eliminating the need for any 'specific' remedies to match a named condition. It is however important that you read the information concerning applicable health conditions so that you can simply apply this knowledge in remedy selection, prioritization and alternation if need be.
$@$ART625$@$