pH Testing Urine/Saliva
We supply this item at
cost price
.
This Hydrion pH Paper provides excellent colour separation in both the acid range (below pH 7) and the alkali range (above pH 7). Commonly used to test urine and saliva, it offers an easy to read, single colour match at every .2 to .3 interval from pH 5.5-8.0.
The colour chart has pH matches at [5.5][5.8][6.0][6.2][6.4][6.6][6.8][7.0][7.2][7.4][7.6][8.0]
Each roll provides for approximately 100 tests. Simply tear off a small strip of pH paper, dip into the test solution, then instantly compare the resulting colour with the matching pH colour chart.
Many pH papers are not accurate so we only recommend Hydrion pH 5.5-8.0
pH meters can be problematic as they usually have to be re-calibrated every few days. However, if you did decide to purchase, one make sure it can read just about 2 ml of saliva sample (i.e. the type with the long thin tube/probe such as the Checker by Hanna).
What sould our saliva and urine pH be ?
Contrary to common misinformation, the urine and saliva readings are not, and should not be the same as the blood or cells. The blood must stay within a very narrow pH range centred at around 7.35. If there are insufficient minerals freely available to keep it at that pH, minerals will be drawn from other parts of the body, including the bones, to maintain the essential pH of the blood. This process is at the centre of the journey towards death.
Generally, minerals from foods and supplements are alkaline forming and the metabolic processes of living are acid forming.
A healthy baby should have a good mineral balance and reserve. Urine and saliva pH will both be 6.4 or thereabouts. As a person ages the health starts to decline, as characterised by a mineral/energy insufficiency that is shown by a double alkaline pH (i.e. both urine and saliva pH being above 6.4). The next stage of decline is alkaline saliva and acid urine, followed by acid saliva and alkaline urine. The last stage of deteriorating health is for both urine and saliva to be overly acid, (i.e. pH below 6.4). This last stage is nearly universal with people with arthritis and other bone-joint health issues, and cancer. If pH of urine and or saliva is consistently below 6.0 the serious attention should be given to promoting alkalinity.
During the process of re-alkalisation of the tissues a healthy ph of urine and saliva may rise to both being in the region of 6.8 for a period.
The best, most accurate time to take pH readings is first thing in the morning. Have 2 small containers ready in the bathroom. Take a small sample of each, then test at your lesure when fully awake !
A split pH is indicative of imbalance e.g. saliva 6.7 urine 7.0. Urine pHs consistently higher than 6.8 can indicate excess mineral loss via the urine. Sometimes this may be corrected by the herb Liquorice and adrenal function needs checking. See
here
and go to further reading tab
The most efficient way to restore and maintain a healthy pH along with a good diet is to take seawater concentrate (from the inland sea of the great salt lake of Utah) 5 to 20 ml
daily (
equivalent to 50 to 200 ml sea water or 150 to 600 ml of extracellular fluid/blood plasma). Sea water has the same mineral balance as healthy extracellular fluid/blood plasma from whence our cells evolved. This partly explains why sea water has been found to be the ideal medium to restore the internal terrain, please see
here
A good compliment to the Ionic minerals (Inland sea water concentrate) to speed alkalisation and improve nutrient status is enzyme rich
Barley Grass Juice powder
You may also be interested in...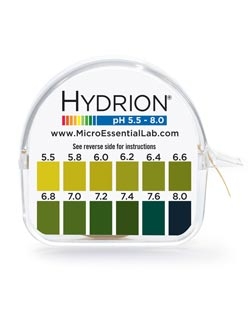 Includes Worldwide Delivery
We tell you about the shipping cost directly on the order page, no waiting until checkout to find out your total item cost
Tax Free Shopping
We carefully size our products, and products are offered in the maximum number of capsules that we can provide whilst keeping the item value below £15.00 and so making it not liable for VAT (UK - Citizens of other countries should check the value permitted for imports before VAT/Tax is applied in their country)
Personal Support and Advice
We're here to help you every step of the way - contact us