Shea Black Liquid Soap
Information
Ingredients
Further Reading

Can be used as shower gel, face cleanser, shaving soap and hair wash (effective for dry hair, dandruff and flaky, itchy, scalp)
Made using indigenous techniques, it is the only known natural soap made entirely from plant materials.
Excellent for all types of skin (especially sensitive skin). For everyday use to keep your skin smooth, nourished and healthy.
A wonderful, nutty, smokey scent laced with natural chocolate & coconut fragrance. The lather is very rich, creamy and mild with a pH level of 7-8, it is ideal for all of the family.
Goes a long way, you will only need a tiny amount at a time.
Also available in this range
Ingredients

50% Pure Organic Unrefined Shea Butter, Coconut Oil, Palm Kernel Oil (from a sustainable and environmentally friendly source) and Natural Chocolate & Coconut fragrance.
Shea Butter Products
The problem with "high street" cosmetics

So many people, especially women, who use skin oils or creams buy products with petroleum jelly (such as Vaseline) as a base. Petroleum jelly is even advertised as suitable for babies. We believe that you should only put on your skin what you can eat withour harm (and this certainly does not include petro-chemicals). What you put on your skin, especially if oil based will most certainly enter the lymph, the blood and finally will be deposited and stored in the liver, brain and other tissues. Many people use these products all of their lives without any real knowledge of the damage they could be doing. Petroleum jelly has also been found to contain carcinogenic chemicals that have been banned in the EU.
Have a look at the labels of your moisturisers and soaps and look up the ingredients, find out the truth about those long chemical names listed on all of your high street cosmetics. Here's one database that lists many commonly used cosmetic chemicals http://www.cosmeticsdatabase.com/ but there are others if you care to look.
The truth is that petroleum jelly is a very cheap base for body application creams, even the so called "high quality" moisturisers, but is it healthy in the long term? We believe it is not. So, we set out to create and find skin care products that are free of petro-chemicals, artificial additives and preservatives. To find a natural, unprocessed product that has both good moisturising properties and many therapeutic benefits is a real boon. To that end we would like to introduce you to Shea Butter. As mentioned above, We believe that the best standard that you can apply to any skin care product is it's edibility. If you cannot eat it without harm, then you should not use it on your skin. We are not suggesting that you should eat it, we tried that for you! and we know from experience that it does not taste good, but that is not the point. The point is it was harmless.
Shea Butter Production
Shea Butter comes from the Karite tree (women?s gold) which grows only in the savannah regions of Africa. The ripe Shea fruits are gathered from beneath the trees between April and June. Only the fruits which have fallen to the ground are used. The fruits are then de-pulped by washing vigorously in water. In some areas, the fruit is buried until the flesh rots, this makes it easier to de-pulp the fruits and the heat generated prevents germination. The nuts are boiled for about 20 minutes, then dried in the sun. The husks are cracked to remove the chaff and the nuts are then sun dried to reduce their water content. These dried nuts are manually crushed into smaller pieces on flat stones to prepare them for roasting. They are roasted over open wood fires until very hot when the oil can be seen glistening clearly on these small pieces and the unique fragrance becomes evident. At this point they are then ready for milling.
The roasted nuts are taken to the mill where they are finely milled to a thick paste ready for the kneading process. This is one of the most intensive parts of the production. The thick paste is manually kneaded in circular strokes in a single direction to release the precious oil. This process takes almost an hour. The "dough" is ready when it turns greyish white. Water is then added to separate the crude shea butter, which settles on top. The crude shea is skimmed off and boiled until the pure shea butter is clearly separated from the crude mixture. The pure shea is then cooled overnight ready for shipping. There is no waste, as the remaining materials are used for animal feed or soap production.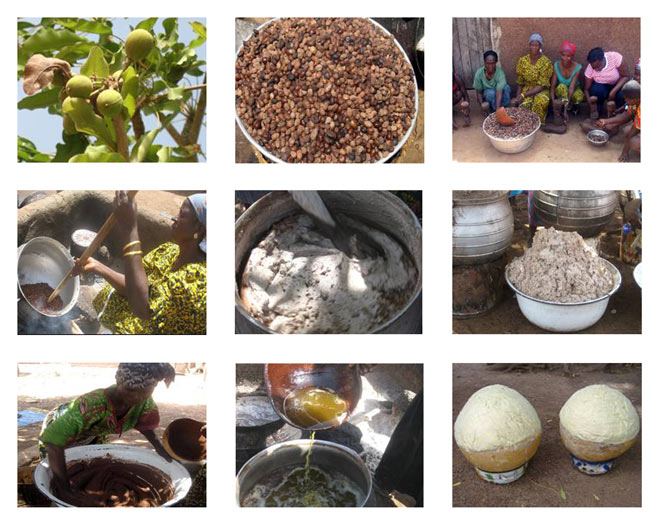 Shea Butter - Pure, Unrefined & Organic
Shea Butter?s emollient properties have been proven through centuries of use in Africa. It is traditionally used to nourish the skin and to keep it supple and young looking.
It is used, therapeutically, to treat a variety of skin conditions such as eczema, dermatitis, skin allergies, fungal infections, blemishes, stretch marks, scars, scrapes, irritations, extreme dryness, and for wrinkle reversal and prevention. It is also used for treating burns (including sun burn), cuts, small skin wounds and insect bites. It is even used ceremonially in some African marriage ceremonies.
Unrefined Shea Butter contains an abundance of healing ingredients including vitamins, minerals, proteins and a unique fatty acid profile. It is a superior active moisturizer that actually restores the skin's natural elasticity. Shea Butter enables your skin to absorb moisture from the air, so that it becomes softer and stays moisturized for longer. In addition, Shea Butter has natural sunscreen properties and anti-inflammatory agents.
Regular users of pure, unrefined Shea Butter notice softer, smoother, healthier skin.
Traditionally, soap is made as the result of a reaction between fat and lye, potash, and soda ash, which are alkalis leeched from the ashes of wood and plants. The chemical reaction that yields soap is known as saponification. Many cleaning agents that you find on the market today are not soap but are made from detergents and petro-chemical derivatives. They are regularly used by big "soap" manufacturers as they are easier and less expensive to manufacturer. Shea Black Liquid Soap is the only "real" natural soap available on the market to the best of our knowledge. It can be used as a shower gel, hair wash (especially good for dry hair, dandruff or flaky itchy scalp), a face cleanser and a shaving soap (for men and women).
Black soap has been traditionally used in many parts of West Africa for centuries. It is made using indigenous techniques passed down from generation to generation. The African black soap is the only soap we know of made entirely from plant material with no added chemicals. This wonderful soap is made with different, naturally occurring oils. Black soap is excellent for all types of skin, especially sensitive skin. In Africa it is used to treat a variety of skin problems, and for everyday use to keep your skin smooth, nourished and healthy. Black Shea Liquid Soap is made with 50% Shea butter, coconut oil, palm kernel oil (from a sustainable and environmentally friendly source) and natural fragrances. It is saponified using cocoa ash.
It has a wonderful, nutty, smokey, natural scent. The lather is very rich, creamy and mild with a pH level of 7-8. It is ideal for all of the family. This Black Shea Liquid Soap has been specially formulated for Regenerative Nutrition by the UK's leading expert in this field using an in-house developed recipe. The result is a wonderfully sumptuous, and sensual soap with a natural milk-chocolate colour (so not actually black!). A little goes a long way.

Turn your bath time into sensual pleaure time and time again with this wonderful gift of nature. we have put many hours into researching our skin care range, and everyone who tested this soap is now a total convert. we wouldn't use anything else.
You may also be interested in...