Mangosteen
Information
Ingredients/Directions
Further Reading

Among the powerful phytonutrients found in the mangosteen fruit, Xanthones stand alone in their impressive benefits. Scientific studies suggest xanthones may promote healthy bodily function. The whole mangosteen fruit, packed with naturally occurring xanthones, may help:
| | |
| --- | --- |
| Maintain intestinal health as part of a balanced diet | Support the body's natural defences |
| Neutralize free radicals (Antioxidant) | Support cartilage and joint function |
| Support cardiovascular health | Inflammation |
| Neutralise bacterial infections | Neutralise fungal infections |
Researchers have identified dozens of biologically active xanthones in the mangosteen fruit. Today, researchers are just beginning to uncover the powerful scientific properties behind the mangosteen fruit. Mangosteen has been used as a traditional medicine in Thailand for the treatment of trauma, diarrhoea, and skin infections.
The purple mangosteen (Garcinia mangostana), colloquially known simply as mangosteen, is a tropical evergreen tree believed to have originated in the Sunda Islands and the Moluccas of Indonesia. The tree grows from 7 to 25 m (20–80 ft) tall. The fruit of the mangosteen is sweet and tangy, juicy, and somewhat fibrous, with an inedible, deep reddish purple-colored rind when ripe. In each fruit, fragrant, edible flesh surrounds each seed.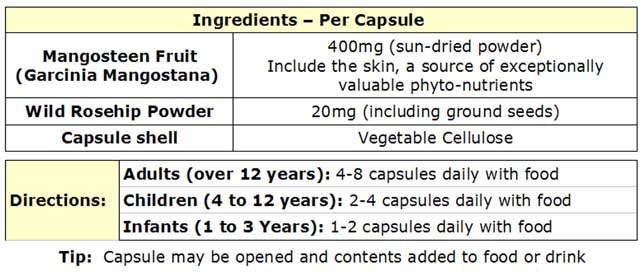 The exact place of origin of the Mangosteen (Garcinia mangostana L.) is unknown but research indicates it probably occurred somewhere in the Malay Archipelago. Native species may still be found growing wild on some islands. The majority of today's mangosteen cultivation occurs in Thailand with smaller areas of cultivation throughout Southeast Asia. Mangosteen has proved itself a difficult plant to domesticate. It has been planted throughout the warm/humid climate regions of the world with little success in any mass cultivation. This is due to the Mangosteen's inability to acclimate itself to any other region other than its place of origin. The result of this limited cultivation, combined with the mangosteen plant being very slow growing, is expressed it the high price for the pure finished product.
There is a big buzz in the medical and holistic community and it's all because of a fairly recent discovery. This discovery is the phenomenal health benefits the human body derives from a phytochemical class known as xanthones. Over 200 xanthones have been identified in nature, with each one possessing its own unique effects on the body. Xanthones are contained within a large family of compounds known as phenols and within this grouping bioflavonoids, anthocyanins and proanthocyanidins (OPC's) can also be found. Xanthones are in the primary active phytochemical class.
Science has crowned the king of xanthones and it's the mangosteen fruit, with over 40 xanthones identified in the pericarp, more commonly known as the rind, making the mangosteen the most abundant xanthones source in the world. Of these 40 or so xanthones only six of the xanthones have been studied in depth, with much excitement These xanthones isolated are Mangostin, Mangostanol, y-Mangostin, Gartanin, Garcinone B and Garcinone E. Researchers still don't completely understand how the xanthones in the mangosteen fruit exert such a favorable impact on human health though do validate the fact that the mangosteen possesses powerful healing properties that surpass many man made substances.
Xanthones are a unique class of biologically active compounds, a restricted group of plant polyphenols*, biosynthetically related to the flavonoids** possessing numerous bioactive capabilities, such as antioxidant properties.
*Polyphenol – a group of plant chemical substances characterized by the presence of more than one phenolic group. Polyphenols are responsible for the colour of some plants and are considered strong antioxidants with potential health benefits.
**Flavonoid – over 5,000 naturally occurring flavonoids have been characterized from various plants. The beneficial effects of plant-derived food are often attributed to flavonoid compounds, rather than known nutrients, as they show a wide range of biological effects.
No plant in nature has a higher concentration or variety of xanthones than Mangosteen. The chemical structure of xanthone forms the central core of a variety of naturally occurring organic compounds, such as mangostin, which are sometimes collectively referred to as xanthones. Over 200 xanthones have been identified and many of these are found in the pericarp of the mangosteen fruit (Garcinia mangostana), which can be found in the region of Southeast Asia. Fourty distinct xanthones have been identified in Mangosteen pericarp powder. Researchers have demonstrated their positive effect on cardiovascular health; and their antiviral, antibiotic, and anti-inflammatory properties in addition to their being a powerful antioxidant.
The aim of a Japanese study was to determine the effect of extract from mangosteen hull on anti-inflammatory indicators such as histamine release and prostaglandin E2 production. The researchers found that a 40 percent ethanol extract of mangosteen hull inhibited IgE-mediated histamine release. The inhibition was higher than that of Rubus suavissimus, which is traditionally used as anti-allergy medicine in Japan. All tested mangosteen extracts inhibited prostaglandin E2 synthesis. The study concluded that the 40 percent ethanol extract of mangosteen hull inhibits histamine release and prostaglandin E2 synthesis. Please
click
here for an off-site, in-depth, look at a research study into the anti-inflammatory aspects.
Oxidative damage is thought to play a critical role in cardiovascular and other chronic diseases. This has led to considerable interest in the antioxidant activity of dietary compounds. The prenylated xanthone, mangostin, can inhibit the oxidation of low density lipoprotein. The results of a study show that structural modification of mangostin can have a profound effect on antioxidant activity. Derivatisation of the C-3 and C-6 hydroxyl groups with either methyl, acetate, propane diol or nitrile substantially reduces antioxidant activity. In contrast, derivatisation of C-3 and C-6 with aminoethyl derivatives enhanced antioxidant activity, which may be related to changes in solubility.
To download a study titled
Anti-Cancer Effects of Xanthones from Pericarps of Mangosteen
please click
here
(1144 KB)
In clinical trials Mangosteen (Garcina mangosteen) has been shown to strengthen the body's antioxidant defenses by inducing synthesis of the natural antioxidant enzyme superoxide dismutase (SOD - an anti-inflammatory, antioxidant enzyme produced by the body that protects against joint inflammation) and scavenging free radicals that in turn help with the prevention of carcinogenesis (cancer development) as well as aid in the prevention and treatment of heart attacks, strokes, atherosclerosis, and liver disease. It is this ability of Mangosteen to induce SOD production in the body that makes it so valuable in fighting free radicals.
Extracts of Garcinia mangostana showed inhibitory effects against the growth of Staph. aureus NIHJ 209p and some of the components had activity against methicillin-resistant Staphylococcus aureus (MRSA). One active isolate, a-mangostin, a xanthone derivative, had a minimum inhibitory concentration (MIC) of 1.57-12.5 ug/ml. Other related xanthones were also examined to determine their anti-MRSA activity. The strong in-vitro antibacterial activity of xanthone derivatives against both methicillin-resistant and methicillin-sensitive S. aureus suggested the compounds might find wide pharmaceutical use.
The antifungal activity of several xanthones isolated from fruit hulls of G. mangostana and some derivatives of mangostin against Fusarium oxysporum f.sp. vasinfectum, Alternaria tenuis [A. alternata] and Drechslera oryzae [Cochliobolus miyabeanus] was evaluated. The natural xanthones inhibited the growth of all the fungi. Substitution in the A and C rings modified the bioactivities of the compounds [Geetha et al; Gopalakrishnan et al].

Use cautiously whilst using chemotherapeutic agents, as mangosteen may interact with chemotherapeutic agents (i.e., anthracyclines, platinum compounds, and alkylating agents) whose mechanism of action involves oxidation.
To read several study abstracts, please click
here
You may also be interested in...