Digestive Disorders Tincture
Information
Ingredients / Directions
Further Reading
Health Uses



This product has now been replaced by Digestive Disorders Herbal Blend

With Digestive Disorders Herbal Blend you get the same benefits but now with a full 30 days supply for just £14.95.


Digestive Disorders Tincture provided 17 days supply for £17.45.

Digestive Disorders Herbal Blend: Effectively better than half the price of Digestive Disorders Tincture. Click on the picture to the left to read more

Effective and versatile herbal combination that can be used in disorders such as stomach ulcer, dyspepsia, inflammatory bowel disorders and auto-immune disorders
Irrespective of how many years you have suffered with ineffective treatment for stomach and duodenal ulcers, these are usually eliminated in 5 weeks or less (it is advisable to continue with the Digestive Disorders Tincture for at least another few weeks or the condition will probably re-occur). The main dietary advice is to avoid vinegar, sharp wines and fatty foods
For Crohn's disease and Ulcerative Colitis, also helpful for IBS. Candida generally has to be eliminated first, see the Candida article
here
, and be sure to read the infections article too (linked in the Candida article).
Not to be taken if you have extremely high blood pressure or during pregnancy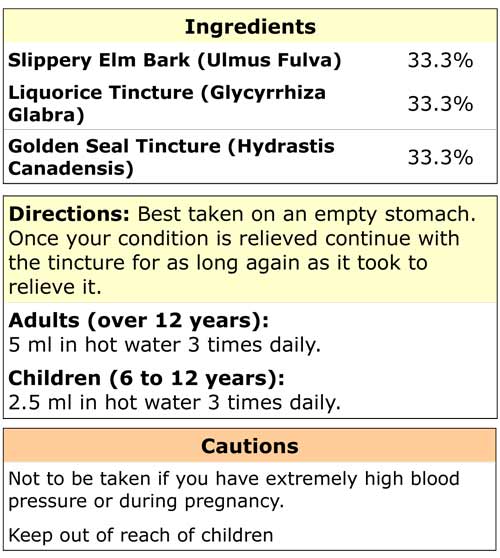 The Herbal & Naturopathic Treatment of Digestive Disorders
Stomach Ulcer

Diverticulitis

Irritable bowel syndrome

Ulcerative Colitis

Crohn's disease

Indigestion
Digestive Disorders Tincture
This is a herbal formula invented by Gerald Green, Medical Herbalist and specialist in digestive & auto-immune disorders
Liquorice - a systemic anti-inflammatory as it helps the adrenal glands to make extra cortisone, reduce excess stomach acidity and heal ulceration

Slippery Elm - soothes any inflammation

Golden Seal Root - a wonderful specific anti-inflammatory for the gut system, also able to resolve bacteria and mucus problems that contribute to gut and digestive disorders
Irrespective of how many years the person has suffered with ineffective treatment for stomach and duodenal ulcers, these are usually eliminated in 5 weeks or less (but it is advisable to continue with the Digestive Disorders Tincture for at least another few weeks or the condition will probably re-occur). The main dietary advice is to avoid vinegar, sharp wines and too fatty foods.
This is a very common disease caused by eating white bread and flour products, with insufficient fibre in the diet over a period of many years. It varies from being a minor inconvenience to a life threatening condition, causing pain, usually on the lower left side, with loose motions. The herbal formula offers some relief, but these herbs alone will not cure it.
It most often occurs in the elderly and they usually do not want to engage in extended naturopathic treatment. This would include the use of a high quality pro-biotic such as
Primebiotic
and a chlorophyll rich superfood such as
Chlorella
or
Barley Grass Juice Powder
However, taking the herbal formula with some of the additional measures will usually alleviate the worst of the symptoms.
This condition usually displays itself as alternating constipation and looseness of the bowels, with periods of abdominal discomfort. The herbal formula does not have a history of use with this condition, but what does have a history of use are the basic remedies of bowel regeneration, this includes the use of a high quality pro-biotic such as
Primebiotic
and a chlorophyll rich superfood such as
Chlorella
or
Barley Grass Juice Powder
. It is best to start with the
Primebiotic
and as soon as adaptation occurs add either
Chlorella
(this is quite energising for the whole system and comes in tablet form) or the less stimulating
Barley Grass Juice Powder
, to provide normalising nutrients to the bowel. Foods to be avoided are bread and products made from wheat (occasional wholemeal bread is usually OK). Avoid processed food as much as possible and take
Digestive Enzymes
when cooked food is eaten. It may also be necessary to check out your food intolerances. The method for this is given at the bottom of this article. After eating more sensibly and taking the remedies, food intolerances tend to reduce, so you can try to re-introduce the foods you found you were intolerant to a few weeks or months later.
Ulcerative Colitis & Crohn's Disease (Inflammatory Bowel Disease)
These terrible gut disorders can also be treated with the Digestive Disorders Tincture, and 'can annihilate the terrible symptoms of these awful diseases to 100% relief remission for life' in the words of Gerald Green. However he makes the proviso that Candida overgrowth, that is very common with these conditions, and to a lesser extent food intolerances, must also be eliminated for the herbal formula to do its work. Candida fungal stage overgrowth is often caused by killing the good bacteria in the bowel with anti-biotics and steroids. The advice given under the heading of irritable bowel syndrome is generally useful over the long term for bowel health - foods to be avoided are bread and products made from wheat (occasional wholemeal bread is usually O.K). Avoid processed food as much as possible and take a
Digestive Enzyme
when cooked food is eaten.
Primebiotic
can be introduced once the symptoms have started to improve (also helps to keep candida at bay) and after a month or two
Barley Grass Juice Powder
can be experimented with. This is for deeper bowel restoration and to supply valuable nutrients overall that are in such short supply for the sufferer of Crohn's Disease especially, but for the population in general due to depleted minerals in soil and lack of a perfect diet.
Chlorella
, although generally a bowel tonic, should be taken with caution by those with a history of IBD, since it may stimulate the immune system.
The Problem of Candida Overgrowth
Candida is a harmless yeast that we all have in our bowel. However when the immune system becomes low for any reason, often due to anti-biotic, steroid or other drug use, the yeast changes into a fungus, and the tentacles of the fungus penetrate the bowel wall and cause fungal spores to be distributed in the blood, causing a proliferation of the fungus generally. This creates poor energy and various other health complaints. It also causes the immune system to be in a hyper alert state, although it is not able to eliminate the problem. The hyper alert immune system then can attack weak parts of the body, such as the bowel, and can worsen bowel disorders. Further more it can prevent herbs from doing their repair job. This is a common situation with Crohn's disease, due to the medication given, in fact any health problem where anti-biotics etc have been taken, even if taken some time ago. In this situation the Candida fungus must be overcome first before we can expect good results with the herbal formula. Full details are given in the Candida article
here
.
In a small study including 18 subjects, supplements containing lipase and other pancreatic enzymes were found to reduce bloating, gas, and fullness following a high-fat meal. Given that these symptoms are commonly associated with irritable bowel syndrome, some with this condition may experience improvement with use of pancreatic enzymes. The pancreatic enzymes include the general
Digestive Enzyme
and protein digestive enzymes such as
Multi-Enzyme Protect
Food Allergies and Intolerances
These tend to reduce with the use of digestive enzymes, also a good bowel bacteria such as
Primebiotic
has been found to diminish food allergies after a period of use.
Identifying Food Intolerances
With the serious inflammatory bowel disorders such as Crohn's disease and Ulcerative Colitis food intolerances need to be identified (also this can be helpful for those suffering from IBS and any health disorder can be aggravated by food intolerances) This is done by eliminating a single food that is eaten regularly (at least once a week) Do not have any of the selected item for a week, then have a fair portion of that food on the 7th or 8th day. If you have a bad reaction to that food, then this is one you are intolerant to. Repeat this with the next food and so on, until you have eventually found all the foods you are intolerant to, and eliminated them from your diet. After a few months you can experimentally re-introduce one food at a time to see if you still have a bad reaction, if not then you may use this food again (but not to excess).
You may also be interested in...